Message from the Principal's Desk
"Education is training of the human soul in the pursuit of truth and practice of virtue"

– Mahatma Gandhi"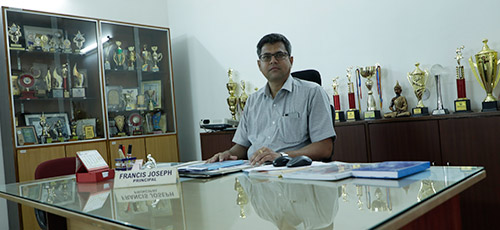 Education is of prime importance in building up of a society which should begin from early childhood in the family itself.
Education in true sense should encourage the physical, social, intellectual, psychological and emotional development of human beings which can take place in a good educational institution only.
Our school takes special interest in grooming the personality of the children and making them responsible citizens to face future challenges in life.
Character building should be conceived as chief aim of education and we at Kasidih High School put emphasis on providing value based holistic education to inculcate core values such as integrity, understanding, excellence, unity, patriotism and agility in students and try to add fragrance in their lives. We teach our students to dream BIG. A team of well trained, experienced and dedicated teachers help them to transform their dreams into reality.
Mr. Francis Joseph
Principal, Kasidih High School
  SCHOOL'S ENVIRONMENT
Kasidih High School, a co-educational institution caters to tKhe needs of students from LKG to Std. XII. The medium of instruction is English. The school offers its services to all classes of society without discriminating students on the basis of caste, creed, or religion. The school also provides special concession on school-fee for students belonging to the lower stratum of society.
The school offers Pure science, Bio science and Commerce stream at the 10+2 level. It has four laboratories " Physics, Chemistry, Biology, and Computer to provide better learning facilities to students. Computer Science is offered to all students from STD I to XII. The Computer lab. is equipped with 27 computers for conducting classes smoothly . The school library serves as an intellectual lab. The library provides a great variety of instructional material. It provides students with useful study materials eg. Newspapers, magazines, reference books, etc.
The school believes that the personality of a child can be developed only when he is provided with manifold activities inside and outside school. It believes in development of the 4H " Head, Heart, and Hand & Health. Therefore it has introduced various hobby classes such as Yoga and meditation, dance, synthesizer, drums and guitar, Eastern and western vocal classes for the students. Games and sports also form an integral part of the curriculum.
The school has a big playground that promotes different sports like, Football, Handball, Cricket, Basket ball, Kho-Kho etc. The school has eight different clubs namely Jyoti, Interact, Eco, G.K, Science, Entertainment and Readers™ & Safe club. All the activities conducted by the clubs are organized with specific purposes which vary according to the nature and form of activity. However, by and large they promote all-round development of students. Each club has a moderator who prepares the annual activity plan which are implemented and monitored by the respective moderators, Vice Principal and Principal.
SCHOOL CULTURE
Our school endeavors to instill values in students to produce competent Indian citizens who will stand upright to build a glorious nation. Our School™s culture is implied through our vision, mission and values.