Message from the Principal
"Education is to ignite a flame. When teachers burn with a passion for truth, the desire to learn will be ignited in their students' hearts. When teachers are excited about culture and beauty, the creativity of their students will leap up like a bright flame."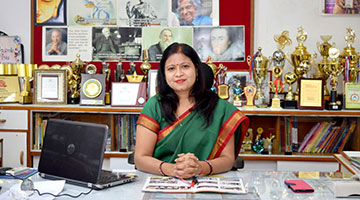 Dear Students and Parents,
I am delighted to welcome you to another new year at JUSCO School South Park.
It is a matter of pride for everyone associated with JUSCO School South Park that we have evolved and completed twelve years of noteworthy existence, conquering one milestone after another. Striving for excellence and perfection, each day the school has rapidly progressed, in terms of both name and fame in the state, as well as, in the national front. The years of thoughtful, tireless and result oriented work has started yielding good returns.
Attaining Senior Secondary affiliation from Central Board of Secondary Education (CBSE) and setting up the Science Exploratorium are some of the milestones we have achieved within a short span.  The milestones we have attained till now have never ever made us confident beyond limits and secondly we have never turned careless or complacent but bringing and adding new aspects in anything and everything we do is what we are ever-engaged in.
Keeping in sync with CBSE, Holistic Personality Development has been integrated in daily school curriculum with value based teaching and learning so as to equip each and every student with various life skills. When I state holistic development, sports and other co-scholastic activities cover a major portion of it. Playing games, both indoor and outdoor necessarily, enhances one's efficiency beyond imagination and we duly emphasize on it.
With our motto being Nobel Intent, Loving Hearts and Fearless Mind ,the school seeks  to educate the child in totality who is not only equipped with 21st century skills and aptitude required for academic excellence but helping him face the challenges of life in a balanced and harmonious way.
The guidance of our Management Committee along with our dedicated team of teachers continuously strive to make the journey of education a very happy and accomplishing one. The varied forums of collaboration between parents ,teachers and students creates a harmonious and efficient environment that nurtures every individual and imbibe values for a lifetime.
'Together we can truly make a great difference.' Keeping this in mind, the JSSP family continues to remain committed to achieve both our Vision and Mission. We commit to strive harder to improve and sustain the level of efficiency.
In the words of JRD Tata , " One must forever strive for excellence or even perfection, in any task, however small, and never be satisfied with the second best ".
MILI SINHA
Principal, JUSCO School South Park